When designing a landscape in Texas, installing trees and shrubs are typically the first element that comes to mind.
However, landscaping with rocks of all shapes and sizes is a great way add visual interest to your landscape design and utility to almost any landscape. We have included some ideas and suggestions below for landscaping with rocks.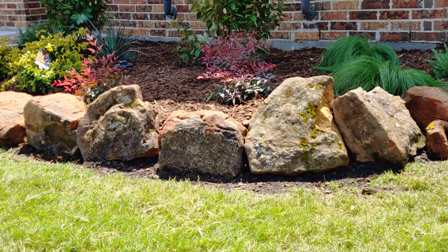 What are landscaping rocks called?
Depending on the size and shape of the rock, landscaping rocks can be called boulders, river rock or gravel.
What to do with landscaping rocks?
Boulder Rock
Boulders are very large landscaping rocks. Smaller boulders, approximately 1 foot in width and height can be used for garden bed edging without digging. Larger boulders are typically used as accent features in landscaping.
River Rock
River rocks can range from half inch to 6 inch smooth stones. This rock comes in a wide range of colors and are most often used to cover larger landscaping areas or as a base for walkways with stepping stones.
Gravel Rock
Gravel tends to be smaller, rough cut stones approximately a quarter inch to 2 inches in size. Due to its rougher exterior, gravel is most commonly used to cover larger, utility areas within your landscaping or the foundation when laying a stepping stone pathway.
How to prepare the ground before landscaping with rocks?
If your landscaping rocks are being used to create an edging to your garden bed or if they will be placed directly into a garden bed, simply add them on top of the soil or along the bed perimeter where mulch is installed.
However, if you install river rock or gravel over a larger area with grass, we recommend treating with a grass killer and/or removing any grass from the area first. Once the grass has been removed, install a landscaping fabric to prevent any further grass or weed invasion. Once the fabric has been laid down, install landscaping rock.
Where can I buy landscaping rocks?
Landscaping rocks can be found and purchased directly from a stone yard where masonry contractors buy their supplies. Oftentimes, a local nursery may also carry a limited selection of landscaping rocks.
How much are landscaping rocks?
Landscaping rocks are most often priced according to weight. The cost per ton will vary depending on the type of rock as well as the color.
For example, boulders can range between $120-$250 per ton depending on the density of the rock and how rare it is. Most boulders available at your local stone yard are mined from the area, but also may carry more specialty boulders coming from other regions of the US that might be more expensive.
River rock will range between $50-$250 per ton. The price difference will have everything to do with the smoothness of the rock as well as the color variation within the river rock.
Gravel ranges from $20-$70 per ton. Gravel includes small pea gravel to larger limestone gravel.
How to calculate rocks for landscaping?
When calculating the amount of rock needed for a project, you will need to know the square footage to be covered, the depth as well as the average size of the landscaping rock being used.
Once this is known, you will multiply the length in feet x width in feet x depth in feet. Divide this number by 21.6 (the number of cubic feet in a ton) to find the number of tons needed. You can also find a number of great calculators online to help you determine materials needed.
How to cut rocks for landscaping?
Landscaping rocks can be cut many different ways. The most common way is with a hammer and chisel or saw equipped with a masonry blade.
However, most professional landscaping companies will use an angle grinder for small precision cuts and a masonry wet saw or tile saw for larger cuts.
What is the best rock for flower beds?
When adding landscaping rock to your flower beds as a mulch cover, we recommend using river rock or gravel no larger than 3 inches. Large stones can absorb a great deal of heat which can burn your plants.
What is the cheapest rock for landscaping?
Pea gravel is the least expensive rock to be found for landscaping.
Whether you are covering a large utility area to cover bare spots in a yard where grass doesn't grow or adding visual interest to your landscaping with larger boulders, we encourage you to visit your local stone yard to see what is available and let it inspire your next landscaping project with rocks.
© 2023 · Main Street Lawn Care and Landscaping, LLC